How to Split a Long Story Into Smaller Pieces (unthreading in the middle of a story)
It's easy to thread frames together in InDesign, so that the text story goes from one frame to the next, right? And you can see where the threads are by choosing View > Show Extras > Show Text Threads. But unthreading frames… well, that's a different story. It can actually be quite frustrating.
(By the way, you'll notice that I call this text "threading" rather than text linking. That's because in InDesign "linking" is something else: it means linking to a document on disk, like the linked images that show up in the Links panel.)
Unthreading Frames
Yes, it's easy to break two threaded frames apart; you just use the Selection tool to click on an in port or an out port on a text frame, and then click on the frame itself (see below). But that just breaks the chain at that point. And more importantly, the text just disappears from all the subsequent frames, too.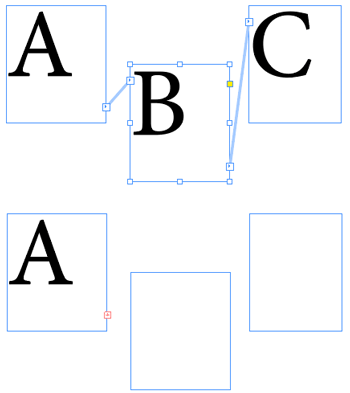 What if I want to break the thread, but keep the text inside the frames? That's possible, but you have to use a free script to do it.
Actually, you already have a script inside InDesign's Scripts panel called SplitStory, which is pretty cool, but it splits all the frames. That is, each frame is unlinked from all the others and all the text stays where it is.
There's also another script in the Scripts panel called BreakFrame, which removes a single frame from a thread. That is, if you select a frame in the middle of a story and run the script, it makes the thread bypass that frame… but the text that was in the frame remains.
Put the Break Where You Want It
But I usually want something different from either of these scripts. I want to select a frame, run a script, and tell the script to break the thread before or after the selected frame. To do that, I use a script called StorySplitter, which I think Adi Ravid wrote back in 2006. You can download StorySplitter here.
(Learn about how to install scripts here.)
So here's how it works: You just select any frame in the thread, and then you double-click the storysplitter script and it opens this dialog box:
Then just tell it if you want to split before or after the selected frame, click OK, and it does its magic:
Note that it usually puts the text cursor in the final frame of the story, which is annoying (because in a multi-page document, you suddenly jump to the end of the story). But you can jump back by switching to the Selection tool again and choosing Layout > Go Back.
By the way, if you always use "Split Before" and you're tired of seeing this dialog box, you can get a streamlined version of the script here.
Personally, I really wish this feature were built into InDesign. It's so helpful! But at least now you know a small free script can do it for you.