Tools and Services for Accessibility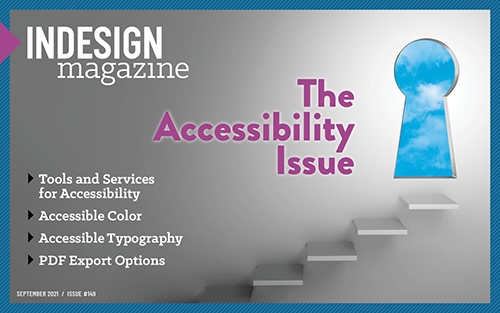 This article appeared in
Issue 149
 of
InDesign Magazine
.
Anyone who builds accessible documents for a living will tell you that the process is far from straightforward. The part you do in InDesign is like pouring the foundation of a house: It's a critical first step, but there's a lot more work ahead (in the form of what's called "PDF remediation") before the job is done. For this reason, third-party tools and services are available to ease the process.
. . . .
This article from InDesign Magazine is for premium subscribers only. To continue reading, please log in above, or sign up for a premium membership today!! Thanks for supporting CreativePro!
More Resources To Master Accessibility
Join us online November 16-19 for The Design + Accessibility Summit, the essential HOW-TO event for design professionals who need to master accessibility.

Over the course of four jam-packed days, you will learn practical techniques for building accessible documents with Adobe InDesign, Acrobat, Microsoft PowerPoint, and other tools widely used by creative professionals.

Make a difference to your audience by learning how to create documents that are accessible to everyone.

Don't miss out—register now!

Professional-level members get $100 off registration! Sign up today.

LEARN MORE AND REGISTER NOW