Tools and Services for Accessibility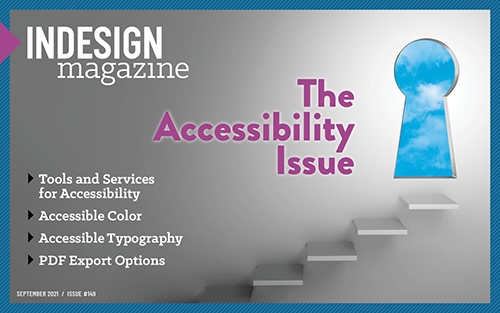 This article appeared in
Issue 149
 of
InDesign Magazine
.
Anyone who builds accessible documents for a living will tell you that the process is far from straightforward. The part you do in InDesign is like pouring the foundation of a house: It's a critical first step, but there's a lot more work ahead (in the form of what's called "PDF remediation") before the job is done. For this reason, third-party tools and services are available to ease the process.
. . . .
This article is for members only. To continue reading, please sign in, or sign up for a membership today. Thanks for supporting CreativePro!
BECOME A MEMBER
CreativePro membership keeps you up-to-date with the technology, solutions, and resources to strengthen your professional development.

For just $6.50/month (billed annually), you'll get access to valuable benefits, including:
12 monthly issues of CreativePro Magazine, filled with practical, real-world tutorials written by experts
Downloadable resources including templates, fonts, scripts, design assets, cheat sheets, and more
Hundreds of members-only tutorial and tip articles
Top Tips for InDesign, Photoshop, and Illustrator ebook collection
Discounts on events and books
and more...
More Resources To Master Accessibility
CreativePro Week is the essential HOW-TO conference for creative professionals who design, create, or edit in Adobe InDesign, Photoshop, Illustrator, Acrobat, and Microsoft PowerPoint.

Featuring over 30 expert speakers and 75 sessions and tutorials, CreativePro Week offers five days of in-depth training and inspiration, all in one place. No matter your skill level, you'll learn techniques and best practices you can start using immediately to improve your productivity.
LEARN MORE
Members get a special discount on registration! Sign up today.