Script of the Month: Color Contrast Validator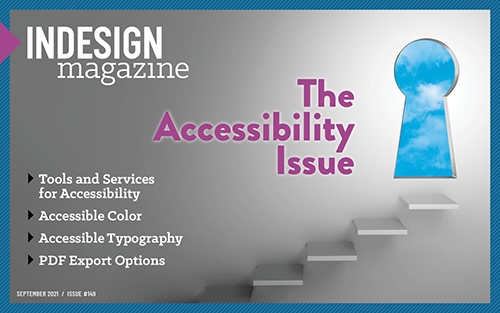 This article appeared in
Issue 149
of
InDesign Magazine
.
Contrast is such a key topic in the realm of accessibility that it's mentioned in three of the articles in Issue #149 of InDesign Magazine. The various tools and services for checking contrast cited in those articles have one thing in common: They all take you out of InDesign. And, most of them involve a significant amount of manual work to check specific color combinations.
The month's Script of the Month offers the double benefit of allowing you to check the contrast of many color combinations against the WCAG 2.1 standards in an automated fashion without ever leaving InDesign.
. . . .
This article from InDesign Magazine is for premium subscribers only. To continue reading, please log in above, or sign up for a premium membership today! Thanks for supporting CreativePro!
More Resources To Master Accessibility
Join us online November 16-19 for The Design + Accessibility Summit, the essential HOW-TO event for design professionals who need to master accessibility.

Over the course of four jam-packed days, you will learn practical techniques for building accessible documents with Adobe InDesign, Acrobat, Microsoft PowerPoint, and other tools widely used by creative professionals.

Make a difference to your audience by learning how to create documents that are accessible to everyone.

Don't miss out—register now!

Professional-level members get $100 off registration! Sign up today.

LEARN MORE AND REGISTER NOW