Scanning Around With Gene: Drawing with Walter T. Foster
I grew up in Southern California. Each time we drove to the beach or Disneyland, we'd pass a building off to the side of the 405 freeway with a revolving sign that stated, in fancy signature style, "Walter T. Foster." The sign was distinctive, and I often wondered who Walter T. Foster was.
Years later I saw my first Walter T. Foster art books in an art store and made the connection. Last week at a thrift store I found a small pile of Walter T. Foster art books from a time when the price was $1.00 and shipping and handling was 15 cents. None of the books have a date in them, but I'd guess from the printing and the price that they are from the late 1950s or early 1960s. Click on any image for a larger version.


At that time the Walter T. Foster Publishing Company was in Laguna Beach, home of artist and educator Walter T. Foster. Laguna Beach was always an artist's colony, and the town was full of galleries and people my mother referred to as "Bohemians."


Foster published his early books from his home, doing the writing, binding, and artwork himself. Many of the books in my pile have the signature WTF prominently displayed on the examples. Foster even hand-lettered much of the book text.


I imagine many young artists getting their start with a Walter T. Foster art book. I wonder how many young girls bought the book on how to draw horses.


By the time of my thrift-store find, Walter T. Foster had about 60 titles, from "101 Heads" to "The Art of Rakusan Tshuchiya."


All of these books are large — what would certainly be called "oversized" trade paperbacks (more like a heavy magazine, actually). Most of the interiors are in black and white with an occasional color spread thrown in.


The books focus on tools and technique of the modern artist, and are more heavily illustration than text. Walter T. Foster believed in showing, not explaining. He encouraged artists to copy, to experiment, and to have fun while drawing. He taught perspective, color theory, and all the basics, plus showed the steps in going from a few circles and squares to a herd of horses.


In addition to training the artist, Foster presented books of photos to use as inspiration, and even books where you could trace images. The company also published some general craft books on topics such as leatherwork and linoleum-block printing.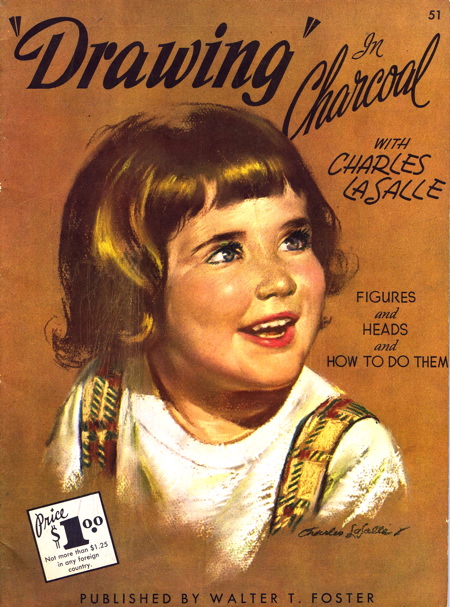 Walter T. Foster books are still published today, though not by the original company. Foster died in 1981 at the age of 90.


I'd love to hear from any of you who got your artistic start with Walter T. Foster. I suspect he influenced many generations with his simple and direct way of teaching art.


I just wonder whatever happened to that great revolving sign I use to see on my way to Disneyland.